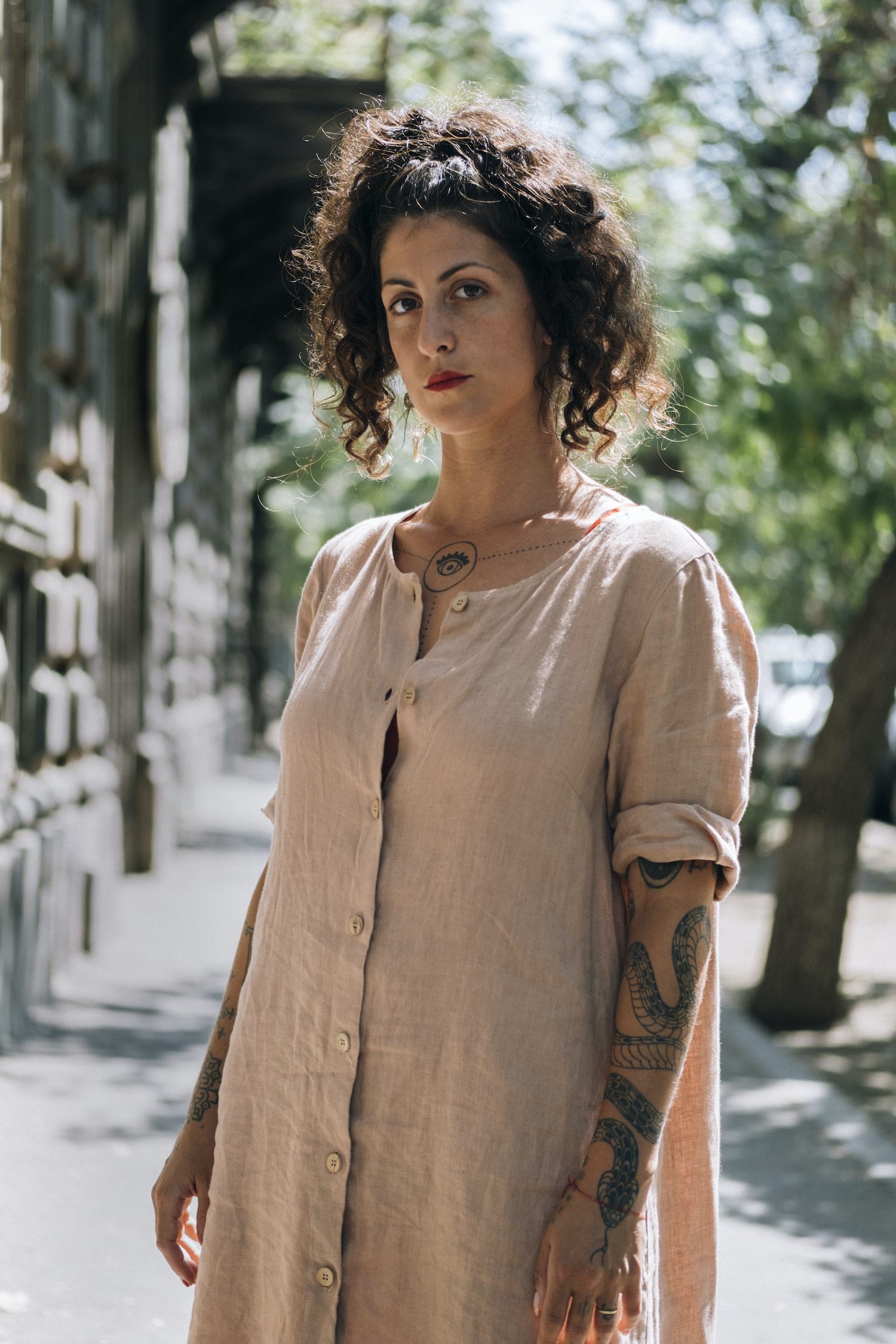 About Kamee Abrahamian
Kamee arrives in the world today as a thriving interdisciplinary artist, creative strategist, producer, performer, organizer, caregiver, waitress, witch, and above all, a die-hard lover and teller of stories. They were born into an Armenian family displaced from the SWANA region and grew up in an immigrant suburb of Toronto. Their work is steeped with relational and generative practices oriented towards visionary futures and justice.
They hold a BFA/BA in film and political science (Concordia University), an MA in expressive art therapy (European Graduate Institute), and an MA/PhD in Community, Liberation, Indigenous and Eco Psychologies (Pacifica Graduate Institute). Their doctoral research explored legacies of relational ontologies and ethics of care by diasporic-SWANA women and queers. Outside of their personal/creative projects, Kamee works as a creative strategist and communications manager at a global feminist movement-support organization, and they collaborate with various companies and collectives including HyePhen Magazine, Armenian Creatives, and Oolik Productions.
Kamee has created, produced, toured, and presented a vast body of work that includes workshop facilitation, visual and media art, staged and immersive performances and exhibitions, magazines, anthologies, and films. They're a Pushcart nominated writer and literary alumni at VONA and Banff Center for Arts, as well as a prize-winning theater maker whose plays were published in anthologies that received a Lambda award. The documentaries they've produced have been supported by Sundance, Visions du Réel, HotDocs, and Catapult. Their most recent film "Transmission" premiered at BFI FLARE and screened at multiple festivals. 
Their projects have been supported by local and national funding bodies across Canada, USA and Armenia. At present, Kamee is developing a limited series script based on Ensouled, an augmented reality project called Flesh Immemorial, and a multimedia narrative tentatively known as Portals.
I ACKNOWLEDGE THAT I PROFIT OFF STOLEN HURON-WENDAT, HAUDENOSAUNEE, AND ANISHINABEWAKI ᐊᓂᔑᓈᐯᐗᑭ TERRITORY, LIVING ADJACENT TO THE KANIEN'KEHA:KA COMMUNITY OF TYENDINAGA. I AM A VISITOR HERE.
CURRENT POSITIONS
AWID: 2019-Present
Creative Strategist & Communications Manager at a global feminist movement support organization
Oolik Productions: 2021-Present
Producer for films supported by Sundance, HotDocs, Catapult, Visions du Réel
Kalik Arts Company: 2013-2020
Co-Founder & Creative Director for arts, media & performing arts production company that arrive at artmaking as generative and transformative mediums for expressing urgent truths, recalling ancestral stories and teachings, while simultaneously visioning future worlds that centre healing, justice, and love.
Alchemy of Waste: 2011-2018
Co-Founder of community arts/education project on deconstructing collective perceptions of waste
Freelance Production & Project Management: 2010-Present 
Unusual Productions: Producer for award winning shows across US/Europe; 3 years at Edinburgh Fringe Festival
Blood Ballet Cabaret: founder/creative director for multiple tours & festivals, including Just for Laughs & Panama's inaugural burlesque show
Accented Feminism / Blind Dates by Neery Melkonian: video editor, designer
Abrahamian Art Center: co-founder, curator, creative director for an art gallery and event space in Yerevan, Armenia
Organizing Team at The Hye-Phen Magazine and Collective
The Hye-Phen was founded in 2014 as an online magazine and global collective to connect queer-minded Armenian artists, scholars, writers, and amplify our under-spoken stories, issues, ideas, and visions of the future.
Member of Armenian Creatives
Armenian Creatives meet to exchange developments in our artistic ideas and identities. A free-form get-together provides the setting to discuss projects that may or may not have to do with being Armenian, cultivating a community of integral support and infectious creativity.

EDUCATION
Pacifica Graduate Institute (2022): MA/Ph.D. in Depth Psychology: community, liberation, indigenous & eco psychologies.
European Graduate School (2013): MA in Expressive Arts Therapy: focus on digitaia & education.
Concordia University (2009): BA/BFA: double major in film studies and political science
TRAINING/RESIDENCIES
County Labs Residency (2023) for development of Ensouled
Banff Centre for Arts & Creativity Spring Writers Retreat (2021)
VONA Genre Bending Literary Fitness Writing Workshop with Shay Youngblood (2021)
Spruceton Artist Residency (2019) for development of Ensouled
Creative Facilitation Training: Partners for Youth Empowerment – PYE Global (2014)

PUBLISHED WORKS & CONFERENCES
"Motherhood is Speculative (Non)Fiction," in The Liminal Chrysalis: Imagining Reproduction and Parenting Futures Beyond the Binary, Demeter Press,  (2021).
"The "Witch" in Relationality with the More-Than-Human: Mutually Shaping Experiences," The Witch Institute Conference; Queens
University (August 2021)
"Towards an Armenian Futurism," 2021 Dumanian Lecture Series (May 2021)
"Queer Motherhood is Speculative Fiction," Mizna Magazine 21.1  Queer & Trans Voices Issue (Nov 2020).
"Never Not Powerful," Spicy Zine (April 2020)
"5 QPOC Visionary Fiction Projects to Look Out for in the Not-So-Distant Future," Autostraddle (March 2020)
"Resistance, rematriation, and diasporic futurity," Panel talk at the Feminist Art Conference, OCAD (March 2020)
"Flare 2019: Transmission by Anahid Yahjian, Emily Mkritichian, Kamee Abrahamian & lee williams boudakian," Rianne Pictures (March 2019)
"Myrtle / A Mother's Mind," BTWN | The Between Journal (issue: 2019).
"Excerpt from a Work-in-Progress: Motherhood is Speculative (Non)Fiction: A Rhizomatic Writing Experiment Examining Motherhood and Matrescence," The Community Psychologist; Volume 52, Number 2, Spring 2019.
"Coffee No. 1" No, Dear Magazine (cover art), guest edited by Alina Gregorian (2018).
"Dear Armen" Q2Q: Queer Canadian Performance Texts, edited by Dickinson, Gatchalian, Oliver & Singh (2018).
"Herstories of Divine Love," The Armenian Review; Volume 56, Number 1-2 (Spring–Summer 2018).
"Stitching Stories: a ceremony of cross-cultural psycho-narrative restoration," Presented at the 16th Biennial Conference of the Society for Community Research and Action; University of Ottawa (June 2017).
"Development of Racial Justice Values for the Classroom," Presented at the 16th Biennial Conference of the Society for Community Research and Action; University of Ottawa (June 2017).
"Kim Kardashian: The Dark Horse of Armenian Society," Paper presented at After Genocide: From Trauma to Rebirth: A Gendered Perspective; Organized by Women in War (Paris) with the Institute of Archaeology and Ethnography in Yerevan (September 2016).
"Narratives and Sense of Community amongst Syrian-Armenian Newcomers in Toronto," Paper presented at Global Histories of Refugees Conference; University of Melbourne (October 2016).
"when you left us in armenia / 2011," BTWN | The Between Journal (issue: 2016).
"Dear Armen," Ardziv Magazine, (issue: December 2014)
SELECTED REVIEWS & FEATURES
L. Torosyan, "Film Review: Ensouled," TorontoHye, 02/2023
Miranda, "Armenian monuments are at risk in Azerbaijan. LA artists make their own to keep memory alive," LA Times, 12/2020
Yesayan, "The New Generation is the Guardian of Our Lands," Asbarez, 11/2020
Gayen, "Oksana Mirzoyan Retells And Makes A Work Of Art With 'Susanna,'" Indie Shorts Mag, 03/2019
Bell, "Vancouver Fringe Festival Reviews: 2017 Edition," Room Magazine, 09/2017
Schons, "The Platform Showcasing Queer Art From All Over The World," Sleek Mag, 04/24/2017
Chakmakchi, "Dear Armen," ReOrient Mag, 1/27/2016
Kleinfeld, "Acclaimed experimental play 'Dear Armen'" The Daily Californian, 10/12/2015
Edevane, "Exploring Identity Through Armenian Tales," East Bay Express, 10/7/2015
Winter-Hebert, "Alchemy of Waste hopes to promote upcycling with their stunning videos," InHabitat, 3/9/2015
"NYC-bound Blood Ballet Cabaret debuts fleshy new burlesque show in hometown MTL," Montreal Gazette, 1/3/2013
GRANTS/RESIDENCIES
Ontario Arts Council Media Arts Grant (2023) for "Symptom" short film
Studio IX Mother Project grant (2023)
Catapult Development Grant Recipient (2022) for the development of feature film "Exchange"
Sundance Documentary Fund Recipient (2021) for the development of feature film "Exchange"
Canada Arts Council Media Grant (2022) for the film production of "Sona and Amasia"
Canada Arts Council Digital Originals  (2020) for "Ensouled" virtual iteration
Canada Arts Council Project Grant (2020) for "Ensouled"
Canada Arts Council Touring Grant (2019) for "Transmission" Community Screening Tour
Ontario Arts Council Multi & Inter Arts Project Grant (2019) for "Ensouled"
PEC Arts Council Market Development Grant (2019) for "Transmission" at Vancouver Queer Film Festival
Canada Arts Council Visual Art Travel Grant (2019) for "Herstories of Divine Love" Installation in Armenia
Creative Armenia Spark Grant (2019) for the "Ensouled" Illuminated Chapbook
POM Grant from Pomegranate Film Festival (2018) for Transmission Short Film
AGBU Performing Arts Grant (2018) for Transmission Short Film
Armenian Art Foundation Project Grant (2018) for "Herstories of Divine Love" Solo Art Show
RACC Project Grant (2018) for Transmission Short Film
Society for Community Research & Action Mini Community Grant (2018) for DYADS
Canada Arts Council Film & Video Research/Creation Grant (2016) World of Q Film Series
BC Arts Council Theatre Project Grant (2016) for Setting Bones
BC Arts Council Touring Initiatives Grant (2016) for Dear Armen East Coast Tour
BC Arts Council Theatre Project Grant (2015) for Dear Armen Pacific Coast Tour
Canada Council Theatre Travel Grant (2015) to attend ReOrient Festival in San Francisco
Canada Council Visual Arts Project Grant (2015) for Dear Armen Performance-Installation
AWARDS/NOMINATIONS
Doc Alliance Award Nomination through Visions du Réel (2022) for "5 Dreamers and a Horse"
Pushcart Prize Nomination for "Queer Motherhood is Speculative Fiction" Mizna Magazine 21.1
Best Actress Nominee (2020) Festival of the Moving Image for "Susanna" short film
Lammy Finalist for LGBTQ Anthology (2019) for "Dear Armen" in Q2Q: Queer Canadian Performance Texts
Playwrights Theatre & Vancouver Fringe Festival (2017) New Play Prize for Setting Bones